Getting Free in a Small Space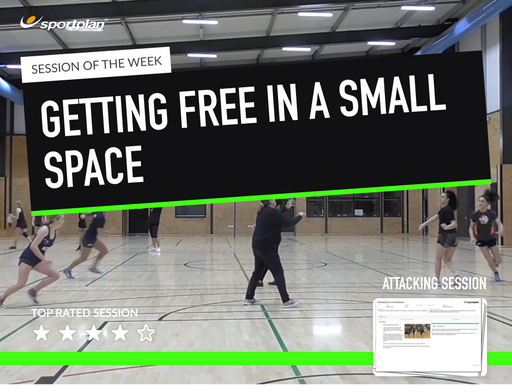 As teams get fitter and the game gets faster, finding space on the netball court is progressively becoming more difficult to create and take advantage of. Those who are most successful at getting free and creating space in a small area are often the players who have the most impact on the game. Use this session, illustrated with brilliant technical videos from Team Bath to improve how your players find space on the court.
What?s in the Session?
The session begins with a fun warm-up to engage the players mentally and physically, getting them ready for the technical part of the session. It works on specific areas that that rest of the session will work, focussing specifically on quick footwork and reactions. As the session progresses, the bulk of the technical practices work on the movement of the attackers, emphasising the positive impact of timing the leads away from their marker to create a connection with the ball carrier. The intense nature will work your players hard but will really reward those who manage to recognise the how to get free; those who do will receive a lot of ball and will have a lot of fun with it!
With brilliant videos to work you through the session, you will really get a lot of value from this session and when you begin to see your girls creating a little bit of space, creating connections and moving it on again at pace, you are sure to get a lot of satisfaction. This is one where you will see your players grow in the space of just one session!