Get Free for the Ball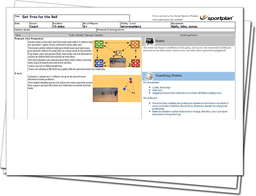 Attackers need the skills to get free from defenders to receive the ball, while putting in as little effort as possible. Attackers need to use skills such as dummy runs and cuts across defenders, as well as ball placement effectively to avoid interception. They also need to be aware of spaces on court and the movement of the other players.
What's in the Session?
The key concept of this session is evading defenders, and this is practiced in various situations, getting progressively harder.
Then players use this in a 3 vs 3, attempting to move the ball through court without the ball being intercepted. Players are gradually added in with changed scenarios, to create greater options for decision making when finding space and passing the ball.
Finish off with a full or half-court game to get all your players working, encouraging them to use techniques from the session.