Effective feeding of the circle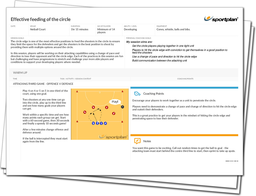 Being able to feed your shooters is a crucial aspect of netball as you can help place them into space and get them into a better shooting position.
What's in the Session?
The session begins with a fun warm-up game to get your players moving and reading off each other to find space. The session develops to provide drills focused on your player's attacking movement, working on and off the circle edge. 'Working On A 2 Vs 1 Within The Circle' not only challenges your shooters but also pressurises your feeders to give the correct pass at the correct time. The session concludes with a normal game of netball, with certain conditions placed upon the game to get your players demonstrating what they have learnt.
Getting your player's to feed from the circle edge helps increase your team's chances of success.