Developing Passing and Movement To Gain Maximum Attempts On Goal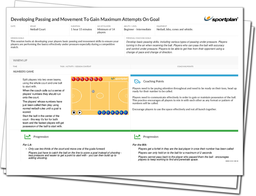 If you don't shoot you can't score! The more shots you have, the more goals you are likely to score! Getting the ball into a position to shoot, is all about passing and movement in the back court to create the opportunity.
What's in the session?
All of the drills in this session focus on passing and movement and using this to get the ball into the attackers hands as quickly as possible. The session takes players through a series of fun and competitive practices to challenge and drive players to further improve their essential netball skills for the up and coming season.
Each practice has progressions to really stretch and challenge your more able players and conditions to support your developing players.