Developing Dominant, Tight Unit Defence!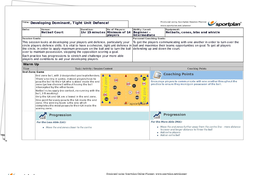 Build up a dominant defence with this week's session, helping your players to develop into a tight unit, keeping your defence rock solid. It's important for you to have a tight, cohesive defence, so your players are able to withstand the opposition's attack, helping you to victory!
What's in the session?
With a number of challenging but fun practices, such as Unit Defense, get your players communicating with one another in order to turn over the ball. It's important that all of your players are ready to defend throughout the court, so make sure that their defensive skills are up to scratch, improving key areas such as anticipation and movement.
Keep your players communicating and build up a tight defence on court in your next training session!