Developing Core Attacking Skills to Lose a Defender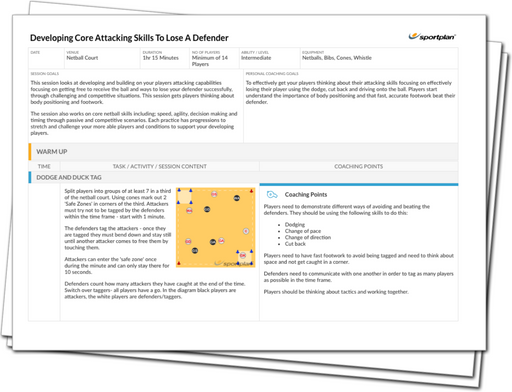 This week's Sportplan Session looks at developing your players attacking ability with a particular focus on attacking with applied pressure from defenders and creating competitive scenarios.
A series of fun, yet challenging drills will have your team working at high intensity throughout the session. Their attacking skills will develop under the high pressure situations created in these drills. The importance of body position and footwork to beat their defence will be highlighted as well as the importance of communication between players, both on attack and defence. Players confidence to compete against their defence with no hesitation will increase throughout the session.
Core netball skills will also be improved, including; speed, agility, decision making and timing through passive and competitive scenarios. Each practice has progressions to stretch and challenge your more able players and conditions to support your developing players.