Defensive Pressure - Advanced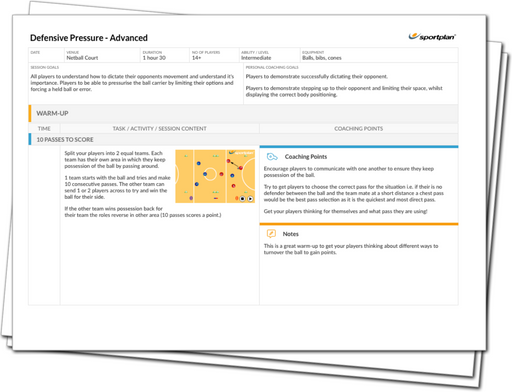 It is important that your players feel in control when defending and are not simply following their opponent.
The session begins with a fun warm-up to get your players thinking about different ways to turnover the ball to gain points. This drill provides a great opportunity for your players to take risks and keep trying alternative ways to gain possession. The session develops to provide a series of drills looking at your player's body angles and positioning in order to be more successful. These drills also look at how your defenders can be in control and dictate their opponent's movement to apply defensive pressure. The session concludes with a normal game of netball, with certain conditions placed upon the game to get your players demonstrating what they have learnt.
By working on your player's body positioning and angles will help your defenders be more successful in dictating.