Attacking Principle: Developing Set Plays for Throw Ins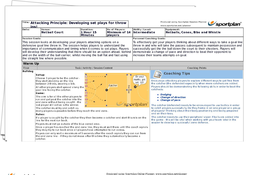 As much as we?d love to always be on the ball in our attacking third, sometimes we are forced to play out from our own baseline. When your opponents are pushed high, you need to offer the options to the ball carrier to be able to turn defence into attack! This session looks at what options should be created plus how best to move the ball from a set play scenario.
What?s in the Session?
A simple game of bulldog is the place to start with this session to get the heart rates up and the players in high spirits with a bit of fun to start with. The skills practices progress on to developing players movements to create some space to offer a pass. Once the lead has been made, the emphasis is put on the ball carrier to make the best pass for the situation. The practice continues up the court to develop an understanding between the passer and receiver. The session incorporates numerous practices to encourage different styles of leads meaning your attacks don?t get predictable and you stay sharp on the court. Finish off with a modified game to put all the new skills into practice!
Set plays can be tricky. Stationery defences can be tough to play against so get your team moving with intelligence to shift the defence and escape tight situations.