All out fitness session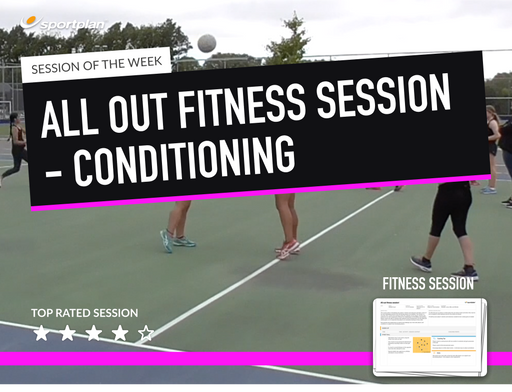 It is crucial your players have the correct level of fitness to not only be able to last the full duration of the game but maintain their optimal level of play. This includes making correct decisions under fatigue, being able to offer and re-offer and keep tight to their opposition to force errors or promote a turnover.
What?s in the Session?
The session begins with a fun warm-up to get your players moving and become spatially aware in order to score points. The session is predominantly focused on using a range of high-intensity movement, to get your players working hard. The session is developed to cater for a range of abilities and fitness levels, with lower and higher ability modifications available. The session concludes with a modified game of netball, it will be important that your players focus as they will be fatigued. This game presents a perfect opportunity to replicate to some extent the level of fatigue they will feel in a game, therefore it is important to eliminate mistakes and maintain their optimal performance.
Fitness is a fundamental part of netball and as the match progresses, it can ultimately determine which team comes away with the win. This session will help develop your teams level of fitness to help them perform better under fatigue.