Netball Drill Demonstration
Related Plans
Prev
Prev

Maximising Turnovers
Make the most of your turnovers to set up lethal attacks time after time.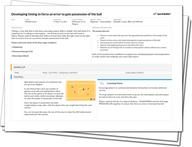 Developing timing to force an error to gain possession of the ball
Develop individual defensive skills to improve the overall team defence to pressurise the pass and force an error, encouraging a covering defender to anticipate and make the interception.

Forcing errors and making interceptions
Develop your player's defensive ability, allowing them to practice their 3 stages of defence in order to force errors and successfully obtain interceptions.
Description
4 Attackers with one ball stand on four corners of the square, they are not allowed to move from their cones.
To start with include 3 defenders. These players must move around the area trying to intercept passes from the attackers by driving into the space between the passer and the receiver.
If a defender attempts to intercept the ball and fails and is out of position as a result one of the other defenders should spot the gap and endeavour to cover the space.
Coaching points
Once the exercise is working and understood by all players you can introduce another 1 or 2 defenders to make moving the ball around the area a lot harder for the attackers.