Search
results for

: selection

We found 34 results matching your criteria:
Drills

category: Eliminating-a-Player
*** AUDIO DESCRIPTION ON ***
Coaching Objective:
To give the attacker a selection ...
Web Videos
Rutgers field hockey receives an at-large berth to the NCAA Tournament and reacts when their name is revealed at the Selection Show.
Jamie Dwyer talks us through how he selects his stick. As Jamie has been selected World Player of the year more than any other player in history, he k...
Great Britain mens hockey captain Phil Roper talks us through how to select a stick. Phil uses a Y1 hockey stick. He discusses the length, bow and str...
Sessions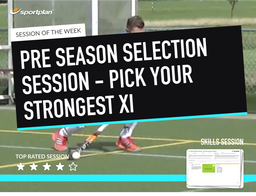 As the season beckons, make sure you?re fully aware of your strongest XI by putting them through their paces with numerous tests to really see who you...

Continue the passing web by developing the right technique to make connections by delivering an accurate, firm pass. Learn how to disguise the pass to...
Community Drills
Points for before the game:Good quality warm up, don't doss aroundMake sure people know the starting line up -->Press is ¾ German (yo...
1v1 coaching defensive tackling, pass the ball follow pas when done passing act as a oncoming defender, shield tackle player out of exact position he/...
1. Ball starts with a pass to P12. P1 recieves curves back around cone3. Enters circle for a shot.4. collects second ball from baseline pass for 1 tim...
- Black arrows represent players path with ball. - Blue arrows represent passes. - Red arrows represent leads. - Yellow arrows represen...