Search
results for

: Cover Defence

We found 14 results matching your criteria:
Drills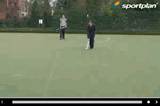 category: Defending-Skills
This video shows the movement of the cover defender (at the back) to the engaging defender.
Web Videos
Field Hockey - #3 Defending with Jeremy Hayward CD22 at REDS HOCKEY CLUB - Perth, Western Australia Kookaburra Jeremy Hayward (Australia) ...
How to manage defense Produced by England Hockey Supplied by European Hockey Federation.
This is an excellent series of coaching videos produced by England Hockey to help players develop their skills.
Australian mens hockey player Jeramy Hayward does a suicide run against Korea. Putting himself in direct line between the ball and the goal, he takes ...
Community Drills
IMPROVE THE COUNTER-CONTROL OF YOUR TEAM1. Communication2. Defenders to setup dedensive lines - cover direct route to goal first3. Set point of defenc...