Effectively finding space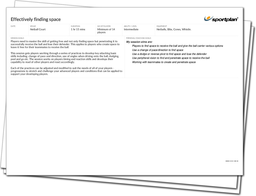 It is important your player can utilise a range of techniques to get free from their opponent to create and penetrate space in order to maintain possession.
What?s in the Session?
The session begins with a fun warm-up to get your players thinking about effective ways to maintain possession to score points. The session develops to provide a series of drills focused on your attackers taking on a defender to get free and provide an option for the ball carrier. These drills will help your players practice a range of movement that they can use to, not only get free from their defender but also to create space for others. ?Receive and return pass? is a great drill to get your players practising working as a partnership to create and penetrate space to effectively get down court. The session concludes with a modified game of netball, with certain conditions placed upon the game to get your players demonstrating what they have learnt.
Your players must work as a unit, working together to create space for one another. Players need to understand that they do not need to receive the ball all the time to be effective, it can be just as important to create space for others.