Developing team cohesion to improve chemistry on court!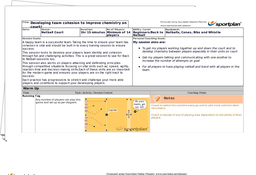 A strong team ethic and atmosphere can be one of your most vital characteristics. Getting your group of players all reading off the same hymn sheet and develop team cohesion through fun and challenging activities both defensively and in attack.
What's in the session?
This session works on players attacking and defending principles through competitive situations focusing on vital skills such as: speed, agility, reaction time and decision making skills. Each of these skills are so important for the modern game and ensures your players are on the right track to success.
The practices test their teamwork, with four skill development drills which progress from relays relying on teamwork, to game-specific practices where there are conditioned rules for moving the ball into specific corners and making the right decisions to transfer it out to other spaces on the court.
With a competitive element as well as a technical focus on players skills, the session can be exceptionally rewarding and helps build team cohesion with fun team games.