Developing core stability and strength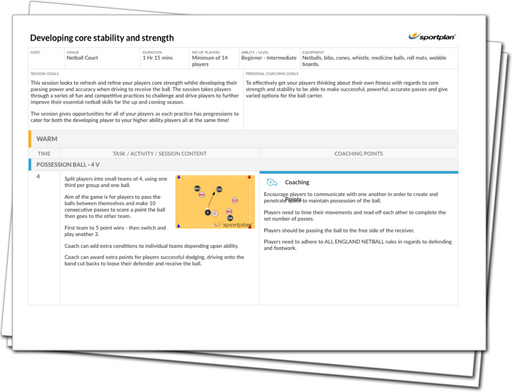 Help refine your player's core strength and stability with this session, whilst also developing their core Netball skills, including their passing accuracy and power. Through a number of challenging but fun exercises, drive your players to improve these essential skills needed, as well as improving their fitness ahead of their next fixture!
Get your players thinking about their fitness in regards to their strength and core stability, using high intensity drills such as Spin and clear out, making sure you also work on your team's passing accuracy. It's important that your players can sustain a high level of performance throughout the game and by working on improving their fitness, in particular their core stability, you'll be able to see your team pass with more power and accuracy.
Get your team fully prepared for their next fixture and work on their fitness in your next training session!