Developing confident feeders!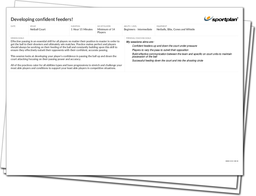 Passing is a fundamental skill within netball and it is important each of your players are confident.
What?s in the Session?
The session begins with a fun warm-up focused around passing accuracy to maintain possession and score points. The session progresses to provide a series of drills to develop your players passing, particularly looking at passing into space, away from the defender. ?Down the court with defenders? allows your players to practice their passing using the full court. Through effective and accurate passing your team will be able to get the ball safely from A to B quickly to gain an advantage. The session concludes with a normal game of netball, with certain conditions placed upon the game to get your players demonstrating what they have learnt.
Confident feeders enable your team to successfully maintain possession and get the ball to the shooters to secure goals.