Defending Principle: Applying Pressure to Force Errors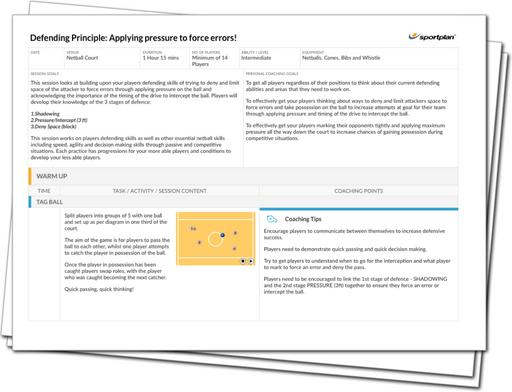 Build upon your defender's skills with this session, working on limiting and denying the opposition space to force errors, by applying pressure on the ball. Get them acknowledging the importance of timing of the drive to intercept the ball, marking the attackers tightly and applying pressure no matter what their position!
What's in the Session?
Start your players thinking about defence start from the off with a fun warm up, ensuring that they show good anticipation, decision making and communication. Get them used to applying pressure on the opposition to force the error or interception, making sure their body positioning and technique is correct. Work on other essential Netball skills, such as agility and speed, to make sure your players are ready for a game situation.
Put the opposition under pressure and force the error, ready to go on the attack!