Search
results for

: New Team

We found 25 results matching your criteria:
Web Videos
Canada Defeats New Zealand 8-7 in a 14 round shoot-out at the FIH World League Semi-Finals in Buenos Aires, Argentina.
Milly and Gaby from hockey News Team caught up with USA Field Hockey captain Katie O'Donnell and Rachel Dawson at the Investec World League Semi ...
News 8's Katelyn Smith has been following the team's journey since they moved to Lancaster County. Here's what you should know about them. Subscribe t...
Kent State field hockey held a fashion show to debut its new Under Armour uniforms for the 2016 season.
Sessions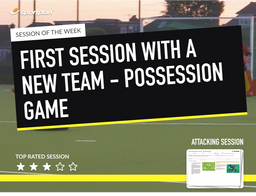 Use this training plan before your first game of the season and coach with confidence - working on possession plus the give and go
Community Drills
*Mini-goals are needed*Over a large area the players will play 2v2 and try to score in the mini-goals. As soon as the ball goes into a goal the losing...
5 vs 3 rugby style, team with the ball has the 2 extra players in red. Trying to score on either end North and South for one team and East and West fo...
Area size: Width of D, baseline to 23m.Groups: 3 groups of 33v3 within this area. One team starts with the ball on the 23m (like a long corner or fre...