Search
results for

: Fitness And Agility

We found 21 results matching your criteria:
Drills

category: Warm-up-Games
Setup: Lay out sticks on the ground about 1 metre apart. Six sticks should be laid in a continuous straight line. Five cones in a zig-zag formation. ...
Web Videos
Get the full program here ... Win the race to every loose puck with speed and agility training. Get started with these drills. 1. Get up Sprint 2.
In this video, Barry Kagan discusses and has a player demonstrate the goalie fitness in order to prepare goalkeeper's for pre-season. For information ...
... // Free Hockey Workouts These are some off-ice hockey speed training drills. You can improve your on-ice hockey speed with ...
... sports conditioning athletic athletes, girls, women, intense, workout, pre-season, post-season, field hockey, team building, coaching, ...
Sessions
In this fourth and final fitness plan so we cover all the bases - working on cardio, strength, speed and agility - getting your players ready for the ...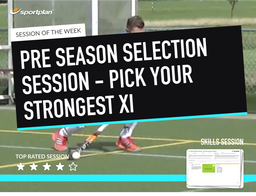 Run your own squad selection with confidence with this week's session, developed for squads of all sizes - from 6 to 60 players!