Search
results for

: physical

We found 35 results matching your criteria:
Drills

category: 113-pulling-pushing
Handball Rob the treasure 113 pulling/pushing One player holds the treasure (the ball) while the robber tries to get it from them. game, junior, trea...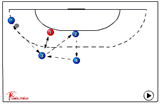 category: 321-pass-shot-feinting-dummy
Ball starts with player 1 who feeds the ball into player 3. The attacking players must then pass the ball around the triangle.
The defender'...

category: 218-dribbling-defence-of-dribbling
Some players dribble around in the goal area. Others just run around. When the trainer blows his whistle the players without a ball go for a player...
Web Videos
SUPPORT ME / DONATE https://goo.gl/bWI8RW DOAÇÃO / AJUDE O CANAL https://goo.gl/bWI8RW Handball - Handball 2016 - Handball FACEBOOK ...
Here are 51 great partner warmup exercises which can be done without a gym, without equipment, without goals. All the players need is a partner and a ...
Handball Course Attack games and physical training. BTU modul 9 - U10 & U12 - 2018 with Lilja Snorradottir, JHF kreds 7 Billum Hallen, Denmark ...
Sessions

Get your players working together to defend and block - keeping the opposition at bay in this physical defending session
Give your players confidence when defending in a 1v1 duel and work on your libero player's ability to read the game and be in the right place, at the ...
Introduce your players to contact in handball and improve your players' competitive character with this physical games session!
Make sure your defenders are confident when they find themselves in a 1v1 showdown - Try this shut-out skills session today!
Community Drills
Play 1vs1 on 4 different stations. Only throw from one though. Mainly defnsive, to get some physical contact going.Focus in attack on change in p...