Pre-Season Conditioning 2: Endurance and Shooting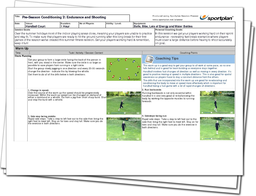 When the season comes around, the games will be physical and demanding, so make sure your team are up to the challenge!
What's in the Session?
This session works the whole body, initially starting with improving flexibility during the warm-up with dynamic stretches. Throughout the session, fitness is the backbone of the practices, starting with circle running to improve both fitness, agility and speed. In the main bulk of the session, fitness elements are coupled with handball skill practices to create a more game specific setting for fitness training. Finally, complete the session properly and professionally with a comprehensive warm down to encourage recovery and improve flexibility.
Final thought:
Don?t be the ones chasing shadows when it comes to the first games of the season. Be the fittest team out there and dictate to the opposition instead.