Search
results for

: Crossover

We found 24 results matching your criteria:
Drills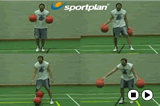 category: Dribbling-Techniques
As above, but one ball passes under one of your legs.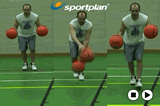 category: Dribbling-Techniques
Once you have mastered the 2 ball dribble, add a crossover by switching which ball is being controlled by which hand.
category: Dribbling-Relay
Player 1 dribbles to the line of cones with their right hand and does a crossover dribble and changes to the right hand, at the next line of cones ...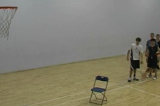 category: Dribbling
This drill can be moulded to fit the coaches session focus.
The chair is simulating a defender. The players dribble up to the chair and use ...
Web Videos
Discover How To MASTER The IVERSON CROSSOVER TODAY! Get Your FREE Scoring Workout From Coach Rocky ➤ ... ...
Submit your videos to be featured in future videos! ObeseFailTV@gmail.com More funny compilations: ...
5 Crossover Moves EVERY Player Must Master! BREAK ANKLES In Basketball! (Tutorial) Get the Quick Cross Workout: ...
Community Drills
Change direction at every cone - Hesitation- Crossover