Search
results for

: Slip Left

We found 24 results matching your criteria:
Drills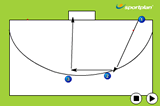 category: Indoor-Hockey
Slip left or straight shot.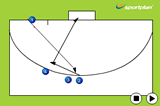 category: Indoor-Hockey
Using both circles to practice the slip left shot and the straight shot.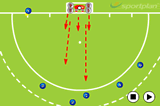 category: Set-Pieces
Setup the defence as shown with defenders on each post and a runner on each post.
Player 1 runs to the top of the circle with Player 2 runni...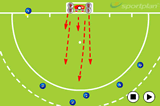 category: Set-Pieces
Setup the defence as shown with 2 defenders inside the goal on either post.
In front of them are two runners.
Once the ball is inje...
Web Videos
As the light towers shut down following the Canton High School field hockey team's rematch of an early-season tie with Foxboro Tuesday night, the last...
Kate Middleton has SEXY Legs and Shows Them OFF Playing Field Hockey A former captain of the field hockey team at her school Marlborough College, Kate...
We teamed up with two of the NHL's biggest Stars! Enjoy our 1st Hockey trick shot video! ▻ PLAY our iPHONE GAME - ... ▻ VISIT ...
It's Twin No. 1 against the red-head in the third episode of Dude Perfect's Face-off as Coby and Garrett square off on an epic hockey shootout! Who wi...
Community Drills
4 defenders, plus GK, must stand behind the goal line (not necessarily inside the goal) and may not move until the Injector touches the ball.The RED d...
Injector: always hit/push the ball in from this side.Aim for the Striker at the top of the D.After playing the ball, immediately run to the post for r...
As shown in the sketch, that will be the short corner set-up.There will be two castles, with a flicker/hitter & stopper One player on the right to run...