Search
results for

: G Turn

We found 19 results matching your criteria:
Drills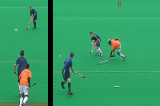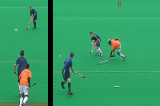 category: Video-Techniques
- Playing a 2 on 1 in a narrow area
- Looking to post hard towards the player and turn strong
- Player making the initial pass should...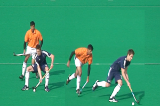 category: Video-Techniques
- Making an aggressive lead towards the ball and rolling over the left shoulder
- Rolling over the left shoulder is referred to as 'turning ...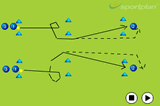 category: Eliminating-a-Player
Players run with the ball at the cones (pretending these are a defender).
The players reverse or forehand turn away from the cones to then c...
Web Videos
One Handed G - Turn This spinning technique helps you to turn away from your opponent without compromising the ball as your body is always between the...
want to learn how to do a forward spin. Here is #18 for Malaysia mens hockey team, Faiz. He demonstrates the forward spin, which is the more difficult...
Field Hockey Skills | How To Do The Spin in Field Hockey: ... Ryan Julius, South African International Hockey Player ...
Field Hockey Tricks: Turn.
Community Drills
Move the defence by drawing them into a corner and moving the ball out to the help side to attack down the opposite wing.strong turn out and pass back...
Coloured arrows represent coloured player.Essentially as a pass and move drill down the wing. If possible try and do the drill on both the left and ri...
Run with ball to cone, 90 degree turn, repeat to shot. Variation includes indian dribble instead of straight run, as well as strafe. Variati...
Fun way to practice aerial passing technique with younger players.Players can work alone or in pairs (taking turn or "hole" about).Every hol...