Search
results for

: 2 v 2 up and down

We found 32 results matching your criteria:
Drill Categories
The grip is the way your player holds the hockey stick with their hands. There is little variation in how a player can hold a hockey stick, but as you...
Drills

category: Attack
Netball 3 v 2 to score Attack The challenge in this game is for the attacking players to use the extra player to help them score.

category: Getting-free
Netball Running the Gauntlet (with ball) Getting free To be played in groups of 8. 2 defenders stand in each section of the court. 2 attackers work t...

category: Defence
Netball Defenders Dictating Play Defence Create a narrow channel for 2 attackers and 2 defenders to ... Developing effective team defence to deny spa...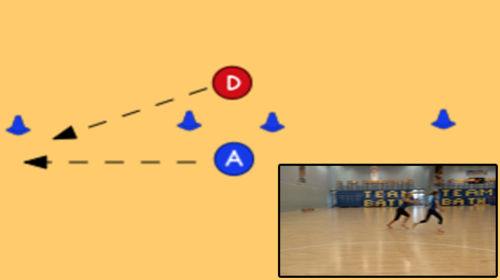 category: Getting-free
Netball Lose your Marker Getting free Set up 4 cones/throw down lines making ... 2 vs 1 Centre Pass Drill Thumbnail ... 2 Vs. 2 - Pass and Move Drill...
Web Videos
Ninh explains the Rules of Netball, the most popular female only sport played worldwide. A beginner's explanation of Olympic Netball Rules. Watch this...
England's Sasha Corbin takes on Australia's Julie Coretto (now part of Sky's commentary team) in Crazy Netball - a take on Crazy Ball. Set yourself ou...
The One Two Drill is our most difficult yet but once it's broken down I think any players who can pass and catch could give it a go! It's a great team...