Search
results for

: handball

We found 53 results matching your criteria:
Drills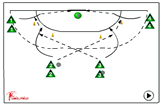 category: 560-complex-shooting-exercises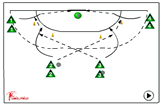 category: 562-shooting-wing-player

category: 561-Coordination
Two players standing opposite eachother and throwing a bib, a tennis ball and a handball towards eachother (can use different objects to suit)
Web Videos
Full replay from the Copper Box as Norway take on France in this preliminary Group B match of the women's handball event at the London 2012 Olympic Ga...
Full Highlights as Sweden take on Iceland in the preliminary Group A match of the men's handball tournament at the London 2012 Olympic Games. Subscrib...
Sessions
Can your players perform to high standards once fatigue kicks in Handball specific speed and endurance drills to improve fitness and skill.
Prepare your side for matches with training in game situations, working on their passing and shooting.
Use the Give and Go in handball to create space, get past defenders and give your team the attacking edge!
Fast paced, give and go, running shot handball session - Get your players to release the quick shot to catch the opposition on the back foot!