Search
results for

: handball

We found 47 results matching your criteria:
Drills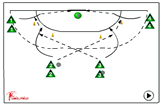 category: 560-complex-shooting-exercises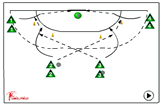 category: 562-shooting-wing-player

category: 561-Coordination
Two players standing opposite eachother and throwing a bib, a tennis ball and a handball towards eachother (can use different objects to suit)
Sessions

Be the fittest team on the courts when the season comes around. This comprehensive session covers all aspects of fitness for handball in a professiona...
With the start of the new season approaching it's time to build your players' aerobic stamina and strengthen their leg muscles ready for match day.
Learn how to maximise the effects of crossing in the game, both in your own half and going forward!

Teach your players to hit the bullseye every time with this week's accuracy games-based session