Netball Drill Demonstration
Related Plans
Prev
Prev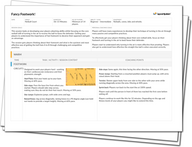 Fancy Footwork!
Show off some fancy footwork on court and go on the attack with this session!

Speedy, accurate footwork to outwit your opponent
Develop your players understanding of the importance of fast footwork to deceive their opponent and gain more chances on goal.
Description
A tough fitness exercise that works your players' speed stamina. Depending on your team's age/ ability you can choose to do the simple course (in blue) or the advanced one (in red).
Players all line up on the baseline and must run out to each line (starting with closest first) and upon reaching it turn back to the baseline and then out the next line.
Coaching points
Players should touch each line with their foot, though if you want to make this tougher still you can instruct them to touch the lines with their hands.
Although this is physically demanding players should try to maintain a high running speed throughout.
Allow adequate resting time afterwards!
Drill tags: fitness, running, speed, stamina