Search
results for

: transition

We found 26 results matching your criteria:
Drills

category: Defending-Skills
Hockey Defence the circle Defending Skills Defender passes the ball. ... search our library of 1000+ hockey drills; create your own professional coac...

category: Game-related
Hockey Unopposed 11-a-side Game related The team has to pass the ball around the team using two touches. However, when ever players run out of posit...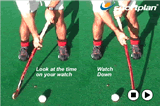 category: Practices-For-Juniors
Players should switch from looking at the time on their watch (watch on left hand for right handed players) and then switch to a watch down grip.
Web Videos
Continuous 3v2 Activity • This game has 3 attackers, 2 defenders and 2 goalies. • 3 attackers start with the ball, their aim being to score a goal • 2...
Sessions
Encourage adventurous attacking with this passing transition session - teaching players to look up and pick out their team-mate's attacking runs
Community Drills
3v3 - you score y passing into the box or carrying through under control. Attack and D switch on turnoverBall pressure and defensive shape. Quick tran...
Play for a set time. When on attack, player has 5 players, when defending, one must drop. Communication and awareness with quick transition
Durée du travail = 1 minute4 duo de défenseurs ( 2 répétition par duos)- Une fois que les 2 défenseurs ont touchés la balle dans une zone, ils doivent...
Ball starts with one of the outside defenders. They work some passes throughout D/M's to transition the ball to the opposite outside defender (key her...