Search
results for

: 16%20Yard%20Hit

We found 23 results matching your criteria:
Drills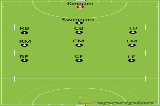 category: Roles-and-Responsibilities
When team in possession of the ball:
Keeper
To get the ball out of the circle
Maybe set-...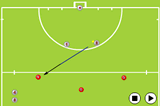 category: Scoring-on-the-break
The SW has to hit the 16 yard hit to one of the opposite players. On doing so the three attackers try and score and the two defenders try and ...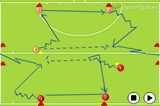 category: Movement-off-the-ball
This is a basic practice to help teach players a simple pattern to get the ball out of the back.
Gold players start with a sideline hit and ...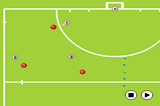 category: Conditioned-Games
The defenders aim is to take the ball out of the 23m area in control
and the 3 attackers aim is to try and score a goal. 3 v 3 plus a keeper....
Web Videos
Field Hockey. Center, left, and right screens of a 16-yard hit.
How to hit harder in field hockey: ... Lauren Penny, Hockey Performance Coach from HPA explains and demonstrates how ...
Community Drills
This is effectively a game of 7 v 7 where the defense need to control the ball into one of the two boxes of cones whilst the attack needs to gain poss...