Search
results for

: circuit

We found 28 results matching your criteria:
Drills

category: Agility
Soccer Agility Circuit Agility Players start on the baseline and run one at a time. The next player starts once the player in front of them has run a...

category: Agility
Join now for free · search our library of 500+ soccer drills · create your own professional coaching plans · or access our tried and tested plans.
category: Passing-and-Receiving
Soccer Pass and follow circuit Passing and Receiving Set out a pattern of cones for any passing sequence. In this one we set the cones out so the p...

category: Agility
Description. One leg hop in each rung. Coaching points. Ensure quick feet and always be aware of foot position in case of injury. Average rating. rea...
Sessions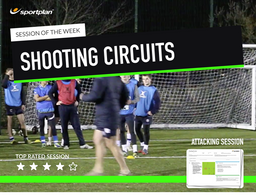 Continuous finishing session to develop your players technique and thought process when in front of goal. Make sure they?re making the right decisions...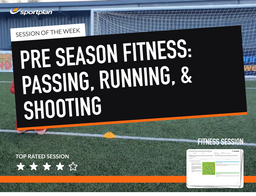 Get their legs moving and find out how your players perform when fatigue hits them with this pre-season football-fitness session!
If you're not careful with your first touch it might be your last. That's why this football plan teaches players to look up and use their first touch ...
Like Bayern Munich, teach your players to break down their opponents by speeding the ball around the pitch with this fast-paced passing and moving ses...
Community Drills
A circuit that works on give and go's at low pace and a full stride dribble. Before station 2 leaves to the next, he/she must turn and support station...
O treinador diz duas cores, os jogadores terão que realizar o exercicio nas cores ditas.Amarelo: saltarAzul: passar pelo meioVermelho: corrida lateral...
Work around the circuit at pace.1. point for a catch2. point for catch3. point for each save4. point for each catch (3 shots)5. point for a save/ stri...
circuito tecnico el jugador decide cual estacion ejercer