Tackle your way to success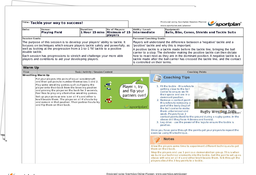 Get to work with improving your team's tackling skills, developing their current ability to make sure that they tackle both powerfully and safely. We look at the progression from the 1-on-1 tackle to the positive double tackle, focusing on their technique, following a number of key points to ensure that they will be using the correct technique on the pitch.
What's in the session?
With fun exercises such as Sumo wrestling, get your players working on their tackling technique in a controlled environment, making sure that they are tackling with the correct technique. Work on areas as the leg drive, so that your players can ensure of making a powerful tackle, as well as one which is positive and safe.
Tackle to success with this session!