Handling and Support Play for More Effective Attacks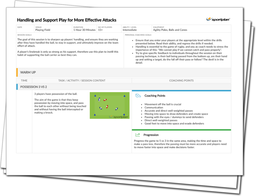 This session's goal is to sharpen your players' handling and support running. By ensuring players continue to work after they have handled the ball you will be able to improve your side's ability to burst through defensive lines.
A player's line break is only as strong as his support
What's in the session?
To improve your team's attacks this plan gets players working on their passing accuracy, ensuring they pass in front of the moving player, and their handling when running at match speed. Quality handling is essential in the game of rugby, and you as coach needs to stress the importance of this: "We cannot play if we cannot catch and pass properly".
Made up of 6 video and illustrated drills this intermediate plan starts with your players in small groups as they focus on their handling, communication and passing ability. The final game will then see players come back together for a conditioned match, before cooling down as a team.
This session is available as part of an Interactive Coaching Pack, scroll down to learn more