Developing Phase Play!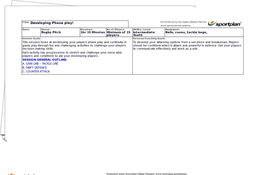 Look at developing your team's phase play and continuity in a game situation with this session, jam packed full with fun and challenging exercises. Challenge your team's decision making when on the pitch, developing attacking options from set pieces, so that they are communicating and ready to work together.
Warm up by working on the lineout with your team and get them thinking about the attacking options available to them from set plays. Throughout the session, get your players communicating together to make the most of set pieces and breakdown, so your team are able to continue play and keep going forward. Get your players thinking tactically and work on improving their decision making skills.
Get your team confident in both attack and defence with this session!