Conditioned Games - Communication and Key Concepts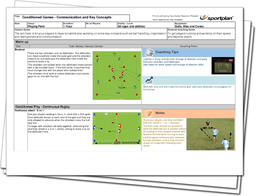 This session is great for squads of all sizes as we look at some of the key concepts, including ball handling, realignment and communication in a fun and relaxed conditioned games environment.
By playing games with your team you can help keep them motivated whilst continuing to work on their fitness levels - as well as their basic ball skills - giving your players an injection of energy as they get stuck into these fun and challenging conditioned games.
Play with Purpose:
Playing without purpose is pointless though, which is why all the games in this week's session have been designed to get your players thinking - about their organisation on the field, how to realign and communicate. Space Invaders in particular, the penultimate game, is an excellent drill for getting players to think about taking risks when sending players forwards into the attack.
Try this fun session with your players today!
This session is available as part of an Interactive Coaching Pack, scroll down to learn more