Improving Rucking Technique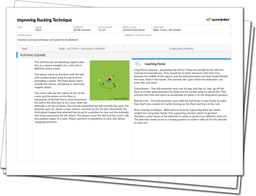 Improving your team's rucking technique, ensuring that their speed at the breakdown is quick, ready to provide efficient support to their team-mates. Be prepared to launch effective attacks after the ruck!
Work on your player's technique by using challenging exercises such as Reload Rucking, wrapping their arms around the defender and driving through with their legs, ready to clear the defender off the ball. By clearing the ruck quickly your team can then launch a quick attack, as you also make sure that they can pass off the floor cleanly, in this session.
React the quicker and get on the front foot in attack after the ruck with this session!
This session is available as part of an Interactive Coaching Pack, scroll down to learn more