1. Running and Passing/ Support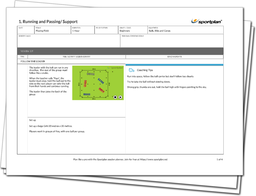 Are you introducing new players to rugby? If so look no further than these fast-paced, fun-filled sessions - the perfect way to safely introduce players to the game.
---
More about this Session:
This simple and fun drills and games session will get your players passing, running and thinking - on and off the ball! Try it with your team today.
---
Basic Rules:
No contact, but gumshield advisable
No kicking of any kind
When a tag is made, the tagger stops running, holds the tag above their head and shouts "TAG!"
When the ball-carrier is tagged, the ball must be passed to a team mate within three seconds
Competitive matches should not be more than seven a side
For more information on Tag Rugby please visit the official RFU site.
This session is available as part of an Interactive Coaching Pack, scroll down to learn more
FREE TAG Rugby Lesson Plans available to watch and download.