Pre-Season Conditioning - Part 2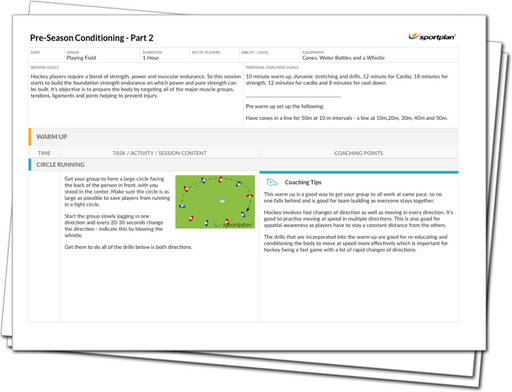 In this fitness session we continue to improve your players' strength, aerobic and anaerobic levels through interval training, improving their cardiovascular endurance - working on all the major muscle groups to help your players avoid getting injured and building a powerful team ready to endure the new season.
Complete Fitness Session
Have the confidence to run a fitness session with groups from 5 to 50 people
No specialist equipment required
PLUS - each session comes with a handy A4 summary sheet for you print and take with you to the pitch.
Hockey is a physically demanding sport and players require a blend of strength, power and muscular endurance. From warm-up to cool-down this session explains every step of your training with detailed notes and images, enabling you to push your players hard to get them fit and raring for the approaching season.
For more individual fitness training ideas check out our free Individual Player Pre-Season Fitness.
This session is available as part of an Interactive Coaching Pack, scroll down to learn more