Posting up and Overlapping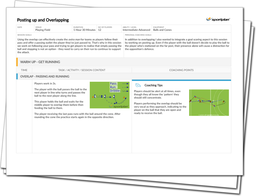 Overlap to Overload, that's the ethos of this session. By using the overlap your team can effectively create the extra man by following their pass and offering a passing outlet to the player they've just passed to.
In addition to overlapping, this session focuses on getting your players to take up offensive positions on the field by Posting Up.
Even if the player with the ball doesn't decide to play the ball to the player who's stationed on the far post, their presence alone will cause a massive distraction for the opposition's defence and will open up space for the rest of your team to run into.