Search
results for

: rugby league

We found 25 results matching your criteria:
Drills

category: Backs-moves
Rugby League Drill Demonstration · Description · Coaching points · Description · Coaching points · Related DrillsOften Used With:.

category: Backs-moves
With a wealth of experience and as part of New Zealand's World Cup winning coaching team, Marg is ready to pass on her knowledge to answer your coach...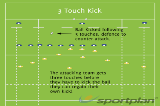 category: Warm-Up
Split your players into two teams, giving one group of players a set of coloured bibs to set them apart, and quickly tell your players the followin...
Community Drills
Coaching Directer of the Ipswich Junior Rugby League, Tony Martin demonstrates a Grip and Carry game for Mini
Here are some simple defensive drills for Rugby League that have been used the Spartans Rugby League Club.
This drill can be classified as a Warm-Up Drill and also a Passing Drill 3 people line up between the blue conesThe player on the end of the line...
conditioned game: this game will be a game of rugby but a two hand touch will be required rather than a tackle. split the teams equity on ability and ...