Search
results for

: pre season

We found 27 results matching your criteria:
Web Videos
Delve into week 3 of pre-season training with Gloucester Rugby!
We go behind-the-scenes to bring you the action from week one in pre-season training!
As Ulster prepare for the start of the new season, URTV went behind-the-scenes to show you a typical day of pre-season training... www.wearelimpet.co....
The Waratah Way is an in-depth look into the NSW Waratah's 2020 Super Rugby pre-season. Go behind-the-scenes at NSW Rugby headquarters as the team ...
Sessions
Blow away the cobwebs. Use these conditioned games in your pre-season build up to prepare players for contact and refresh their long-distance passing
Unlocked
Legs are everything in rugby, so make sure you put the time in ahead of your first games of the season with this pre-season fitness plan
Unlocked
After a long off season period it's important to carefully ease your players back into contact - use this session to get your players tackling again i...
Unlocked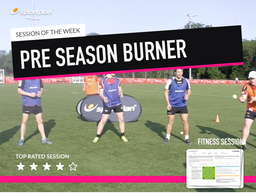 Are you up to it physically yet? Really feel the burn with this session and push your team hard! You will really feel the benefits after!
Unlocked
Community Drills
start with 5 x times hitting the shields, stay allert beacause the coach will place a ball behind one of the shieldboys. he will call turnover. defend...