Search
results for

: man marking

We found 18 results matching your criteria:
Drills

Handball 533 attacking against man-to-man defence 533 attacking against man-to-man defence Three back court players are defended man-to-man. * Positi...

Handball 3 vs 3 - Defence 548 6:0 defence Blue 1, 2 and 3 are the attackers and ... 2v2 - Mark the Space, not the Player. view drill. Two man shut ou...

Handball Quick passing and shooting 541 attacking in powerplay situations Five ... Each of them should be man-marked from a distance by the five whit...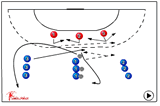 Blue 1, 2 and 3 are the attackers and are trying to get into a gap between the attackers to release a shot on goal.
The defenders must move ...
Web Videos
The benefits of this tactics is to limit the amount of short passes for your opponent and to force them to play long. Also to put them under pressure.
The EHF CAN is pleased to announce that the EHF teaching videos are now available on youtube in the following categories: 1. Minihandball 2. Basic Han...
The Advantages of man marking defense: it can be applied against every system, Easily the ball can be taken of Possession, Surprising it can be The .....
Sessions
... goals this session focusses on your defenders, teaching when to go forward and meet the ball and when to hang back, cover the loose man and hold ...
Handball: Defending Positions in the 3:2:1 System. Home · Handball Drills ... Use it with your team to make sure no man goes unmarked. What is the 3...
This handball plan looks at the Give and Go - also known as a one-two or double-pass - and how it can give your players the attacking edge in their n...
In this handball coaching plan we focus on your back players, making sure ... second part of the session, which works on 2v2 defending and marking th...