Skill Drills!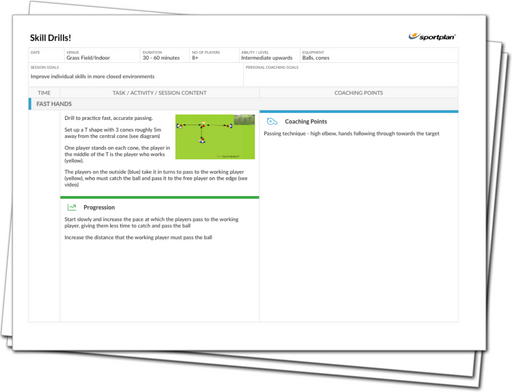 Improve your player's individual skills, covering areas such as fast passing, the grubber kick and catching from a high kick, with the use of this session. You'll be able to work on these skills when you're even in a closed environment so no excuses - get their skills up to scratch!
Work on passing and catching technique, making sure they are accurate and have enough pace to reach their team-mate, as well as catching the ball cleanly. We also work on different types of kicks - the grubber and punt kicks - focusing again on power and accuracy, making sure the kick is controlled.
Finish off the session by working on dummying and feinting the ball to lose the marker, moving the defender with footwork and making sure they run angles off the ball, ready to receive the ball. It's important that your team-mates communicate with one another and provide the support needed, so your team can continue the attack!
This session is available as part of an Interactive Coaching Pack, scroll down to learn more