Ruck Development!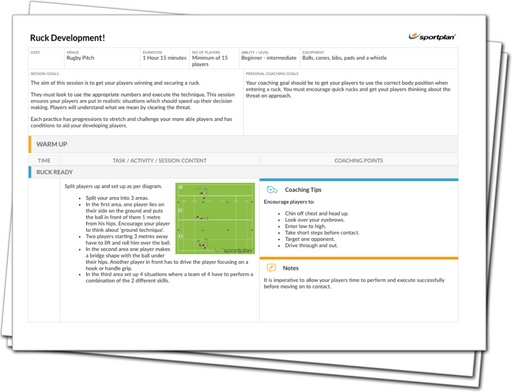 Go one step further than creating the ruck, get your players winning and securing a ruck to push on in the next phase. This session looks at the ruck in the grander scheme of the game, making player think about what is next after the initial ruck.
Those who think two steps ahead are already twice as skilled.
What's in the session?
Warm up your players with some dynamic exercises to recreate the ruck. The warm-up should be used as a time to get their minds focussed on the main aim of the session, therefore the warm up encourages players to be concentrating on the correct technique etc. As the session progresses, the practices become more game specific and increase to full contact. The aim of the session is to get your players thinking ahead to the next phase whilst setting up the ruck. In the final part of the session, allow your players to think about the previous practices to put them into a modified game so that when it comes to matchday, they will be creating threatening plays with every phase
Technique Focus - Think ahead towards the next phase
Progress on from just the skills to get your players thinking about why, how and what is next after the ruck!
This session is available as part of an Interactive Coaching Pack, scroll down to learn more