Improve your Handling and Kicking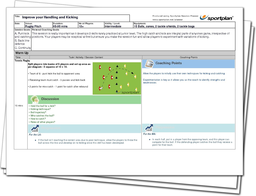 The areas of kicking and handling the kick are two aspects that are often overlooked in training, but fear not, this session plan will help you with just that! Regardless of their position, the kick and high catch are two vital parts of anyones' game, should the player need to clear the defence or receive a catch from the opposition. Allow your players to experiment and work on different variations of kicking, and most importantly, have fun with your team!
What's in this Session?
Allow your players to start off without any coaching tips, so you can assess their weaknesses and strengths with their punt kick technique. Provide pointers on where they need to improve on, by working on their technique throughout drills; it's important that your players are comfortable with the right technique! Continue through the session by working on handling elements such as back line defence, receiving the pass and facing the opposition.
Finish off with a modified game, focusing on kicking and watching the new skills your players have learnt come into practice!