Dominant, decisive attack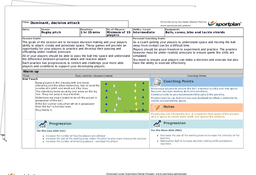 Improve your players' decision making and their ability to create space for another, focusing on their attacking ability and transforming into being a dominant force going forward. With this session, work with your players so they can perform under pressure and pick the right pass. Make your team a force to be reckoned with in attack!
What's in the session?
With a number of challenging but fun exercises, these drills will get your players used to performing in a match situation, so they can play the right pass under pressure. Get your players to understand the importance of creating and moving into space, so they can support their teammates and work together. Work on their passing and offloading skills and be ready to launch a strong attack!