2v1 Attacking Skills Session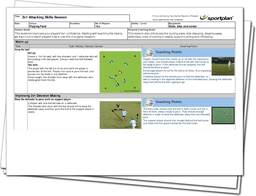 This session improves your players' 2v1 confidence. We start with the basics and then teach players how to use it in a game situation - using target and try lines to increase the pressure on your players.
Tries can be made and lost through poor decision making which is why this plan teaches players to create space for their support runners. The drills in this plan teaches the player with the ball to draw the defender wide to create space for their fellow attacker and also attempt to get the defender to have his hips facing away from the intended pass.
What's in the Session?
A handling warm up leads swiftly into a series of 2v1 attacking practices, designed to challenge your players to attack at pace and make decisions at speed. We finish with a conditioned game, designed to create 2v1s (perfect for putting practice into play)
Additonals
This session also introduces the
dummy pass
side stepping
drawing away defenders
lines of running in attack
support running and offloading
This session is available as part of an Interactive Coaching Pack, scroll down to learn more