Receiving the ball with the reverse stick trap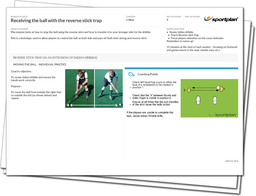 Improve your players' ability to receive on the left and continue dribbling on their strong side with this skill session for intermediate hockey players.
What's in the session?
To help your players become well rounded players this session begins with a review of the Indian stick dribble individually and then working in pairs to practice receiving the ball on the run.
We then put the skill into a game situation as we get players to run and receive when running at goal - allowing the ball to pass their feet prior to trapping and maintaining flow.
Lastly, we close the session with two small-sided possession games, where players can practice using the reverse stick trap while also looking out for cover defenders to spot vulnerabilities in your opponent's defence.
This session is available as part of an Interactive Coaching Pack, scroll down to learn more