Attack and Finish - Shooting Circle Drills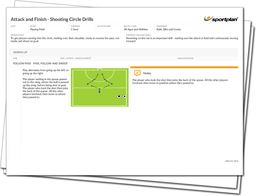 Make the forward run, look over your shoulder and receive the ball on the run. By teaching players to receive on the move you can make sure the attack is fluid, continuously moving forward and encourage your players to make penetrating runs into the circle.
What's in the session?
This session works on getting players to follow their pass, and in particular making sure players hit the target and test the keeper. Making fluid forward runs and creating shooting opportunities is fantastic but ultimately it means nothing if your players can't convert their chances. That's why all the drills in this session are designed to recreate match scenarios, where your forwards are running on goal and still need to beat the opposition's keeper.
This session is available as part of an Interactive Coaching Pack, scroll down to learn more