Basketball Drill Demonstration
Related Plans
Prev
Prev

Small Forward Development Guide
Complete versatility! Coaching the fundamentals to develop an effective small forward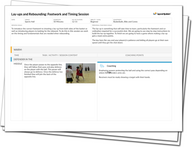 Lay-ups and Rebounding: Footwork and Timing Session
All players love shooting, so reward your team with this shooting skills session as we aim to improve their lay-up and offensive rebound shooting!
Description
This drill requires 3 players around the basket with one feeder/coach.
The ball is thrown up at the basket, the players will battle for the rebound.
Coaching points
The player who gets the rebound gets to leave the drill and joins the back of the line and a new player will come in.
Drill tags: 2v1, rebound