Search
results for

: flexibility

We found 33 results matching your criteria:
Drills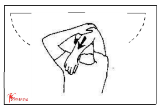 Handball 557 flexibility 557 flexibility hamstrings - stretch leg - move upper body towards leg 10 seconds, static stretch.

Handball Stretch and Give 612 goal keeper : flexibility Goalkeepers sit opposite each other, with legs stretched sideways. They will give the ball to...

Handball Jumping Jack - Hamplemann 612 goal keeper : flexibility An example of the Hamplemann - a goal keeping technique to keep the ball out of the ...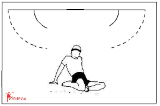 Handball 557 flexibility 557 flexibility calves - stretched knee - push your hips into the direction : wall/floor ( or go and stand on a bench and lo...
Web Videos
In this video are shown some of hip mobility and flexibility exercises, especially useful for handball goalkeepers. I just wanted to emphasize the imp...
Couple of stretching exercises i always try to do before and after training. The video is cut, normally i do one exercise for 15-20 seconds.
Youth goalkeeper training on 22th January 2018 in Stupava, Slovakia.
Sessions
Do you spend enough time with your keepers? Thought not, that's why this plan works on your shot-stopper's fitness levels, improving reactions and con...